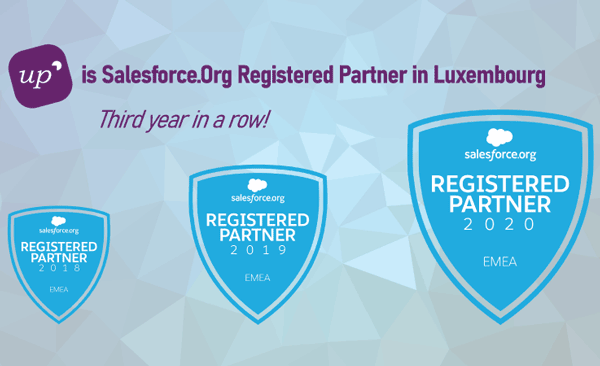 A new year of collaboration with the Luxembourg associative world
For the third consecutive year, UpCRM is Salesforce.org Registered Partner in Luxembourg! Since 2015, we support development and digitization of associations and ASBL in Luxembourg, thanks to the potential of the Salesforce platform.
We build and deploy tailored solutions to enable you to build donor loyalty and gain insight from your data securely. Salesforce.Org offers 10 free licenses to all associations!
You can trust us to build a phased approach to your project, starting with a Discovery phase to understand the big picture. After completing your project, as we aim to provide an ongoing support to build a long-term relationship with our clients, we will provide a clear and efficient support and account management program to consider future improvements.
Non-profit organizations can be intimidated by technology, so be sure to find a partner who can support you. UpCRM is a certified and qualified partner serving Luxembourg Non-profits, recommended by Salesforce.Org. To be recognized as Salesforce.Org partner, companies must specialize in serving the nonprofit communities ; charitable, nonprofit, nongovernmental, educational, or social change organizations.
A partner like UpCRM supports you in your digital transformation, implementing solutions enabling you to fulfill your mission better. At UpCRM, we have seen dozens of projects like yours before, we know what the conditions for success are and we have developed a dedicated process. We understand project management methodology to guide you, our Consultants are Salesforce.Org certified experts paving the way through to success.