Salesforce.org's Winter '21 Global Release Helps Nonprofits Thrive in the New Normal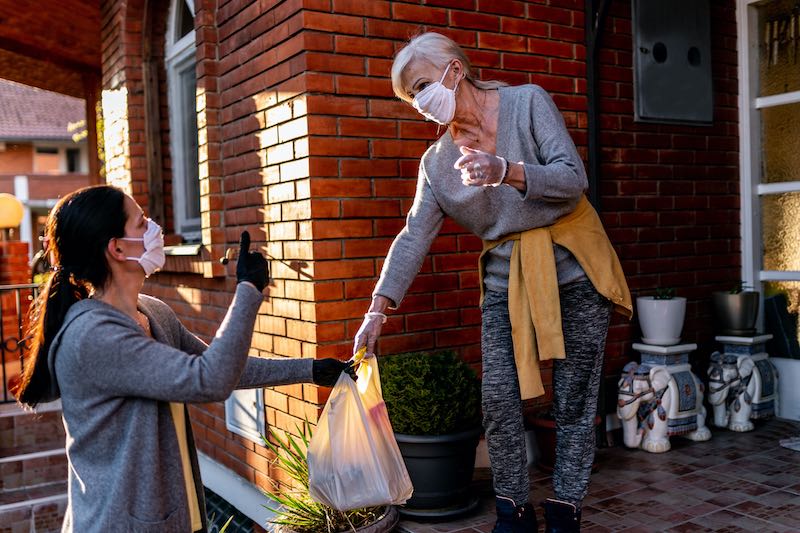 Nonprofits across the world have continued to navigate changing times, bringing both challenges and opportunities in fundraising, marketing and program delivery. The shift to digital continues to be more imperative than ever. When we can't physically be together, technology is key to communicating effectively, and driving efficiency and speed so current resources can deliver more impact.
Salesforce announces the Nonprofit Cloud Winter '21 release. In this release, they are strengthening their solutions in fundraising, marketing & engagement and program management, helping our customers thrive in the new normal.
You will find a summary of these new features below or with full details by following this link : https://www.salesforce.org/blog/nonprofit-winter-21-release/
Create Donor-Centric Experiences With Our Fundraising Solution Innovations
Now that organizations are primarily fundraising through virtual events and other digital avenues, teams need to be more efficient and capture data across various channels.
These new products, features and enhancements allow fundraisers to :
Enable donor-driven fundraising with Elevate Designations and Donor Cover.
Use flexible payment options. In addition to Stripe, nonprofits can now connect to iATS in Elevate Payment Services with the goal to add more payment gateways in the future.
Seamlessly integrate Elevate and the Nonprofit Success Pack (NPSP).
Faster and more intuitively onboard new admins on NPSP with the Getting Started Experience.
Better reconcile with finance with Gift Entry Automatic Batch Numbering.
Flexibly map financial information with Accounting Subledger Accounting Sets.
Harness Insights Platform Data Integrity, our data cleansing tool, in the UK and Netherlands, and filter addresses to update by specific campaigns.
Unlock the power of fundraising data with Tableau Dashboards for Nonprofit Fundraising.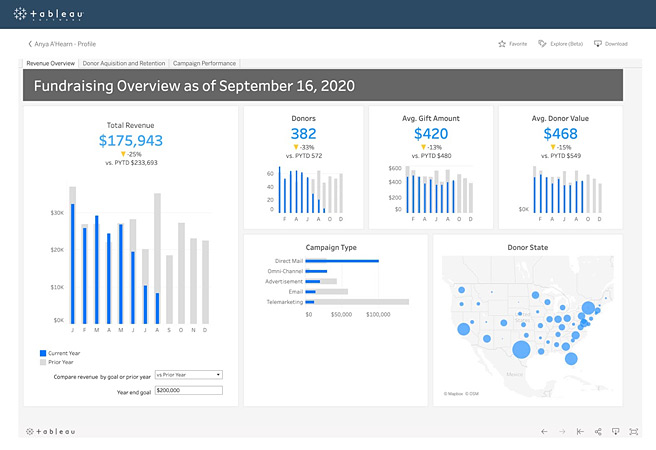 Tableau Dashboard Starters for Nonprofit Fundraising unlock the power of fundraising data.
Find and Engage Lifelong Supporters With Our Marketing & Engagement Solution Innovations
Nonprofits are increasingly transitioning to digital engagement strategies to better engage supporters. With so many organizations engaging digitally, breaking through the 'noise' becomes even more difficult. To help nonprofits ensure that their message is heard, Salesforce has a series of new innovations designed to help nonprofits find and engage lifelong supporters.
These new products, features and enhancements allow marketers to:
Unify constituent data to personalize every interaction with Customer 360 Audiences.
Harness a brand new email building interface for Pardot users.
Plan, execute and track media campaigns in Datorama with the Datorama Media Planning Center.
Use a new series of intelligent enhancements for Einstein for Marketing Cloud.ofit Cloud Case Management Intake & Referrals.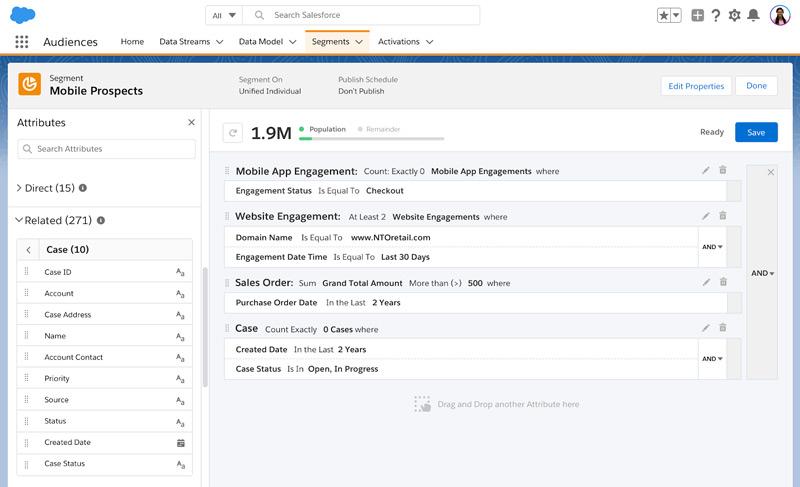 Customer 360 Audiences helps organizations unify constituent data to personalize every action.
Continue Delivering Vital Programs With Our Program Management Solution Innovations
As program teams pivot to meet the growing demand for services, organizations can continue delivering vital programs by moving off of paper and spreadsheets into a robust digital solution.
New features in the program management solution allow program leaders to:
Save time and manual data entry when setting up recurring services for groups or individual participants with Program Management Module (PMM) Recurring Services Tracking.
Simplify the intake and referral process, so clients get faster access to services with Nonprofit Cloud Case Management Intake & Referrals.
Nonprofit Cloud Case Management helps organizations provide personalized client services.
To find out more about about Up CRM's solutions : Salesforce