Talend just announced its Fall '21 release. Providing new service, product, and packaging innovations, Talend applies data health concepts across its platform to help everyone from business leaders to data professionals realize value from their data quickly. Talend's latest release introduces its first solution delivered *-as-a-service, new product capabilities to accelerate data professional productivity, and an industry-first packaging option that supports unlimited rows and unlimited users to provide unmatched, predictable pricing and greater control of data costs.
According to a recent survey, 78% of executives have challenges making data-driven decisions and 60% don't always trust the data they use. Clearly, without trust in data, any sort of insight will always be questioned or worse yet – critical decisions may be delayed and based on bad data.
Highlights of the Talend Fall '21 release include:
Talend Data Quality Service gives business leaders a path to healthier data without technology or headcount investments. Data Quality Service leverages Talend's market-leading data quality technology, frameworks, dashboards, and specialists to help companies monitor the quality of business-critical data continuously and achieve healthy data quality insights consistently.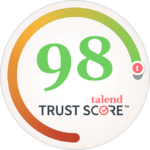 Native Trust Score for Snowflake profiles entire datasets inside Snowflake Data Cloud, ensuring data professionals can leverage healthy, analytics-ready data for their businesses.our org and the most important software we have today, hands down."
Self-service Data API sharing in Talend Data Fabric enables data engineers to run processes, applications, and analytics without relying on a developer because the new no-code product creates and shares APIs in minutes rather than following a process that typically takes days.
An industry-first, Stitch Unlimited's non-consumption-based pricing gives analysts predictable data ingestion costs and improved productivity. Now, analysts can focus less on consumption volumes that drive ingestion costs and more on getting value out of their data. Additionally, Stitch users can connect to multiple destinations from a single account.