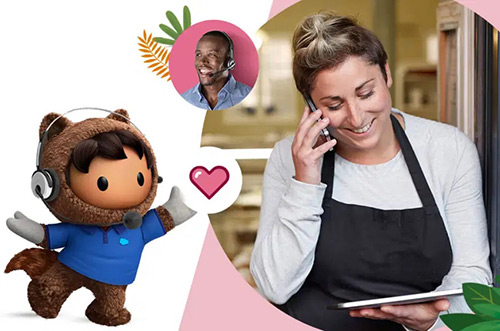 88% of service professionals report that the pandemic exposed technology gaps in their jobs. New Service Cloud innovations give organizations the technology they need today to support agents working from home, in the field or in a hybrid model – all in one system.
Salesforce, the global leader in CRM, introduced the next generation of Service Cloud – technology to support changing customer service expectations and provide connected, personalized service from anywhere on one digital engagement platform.
Over the last year, service agents moved quickly to work from their kitchens and living rooms, but relied on legacy technology—disparate, on-premise solutions and spreadsheets—that wasn't designed to manage globally distributed workforces. At the same time, agents were reeling from a monumental surge in the volume of customer requests across all digital channels and new, in-demand experiences like appointment setting and curbside pickup.
Service from Anywhere with Service Cloud 360
For companies to thrive, they need to make every customer engagement — from online to curbside to in-person — more valuable and empower their service employees to quickly help, whether they are working from home, are in the field, or working in a hybrid model. Today's announcement includes key updates to Service Cloud Voice, Workforce Engagement, Visual Remote Assistant, and more, all applicable across industries from retail to manufacturing.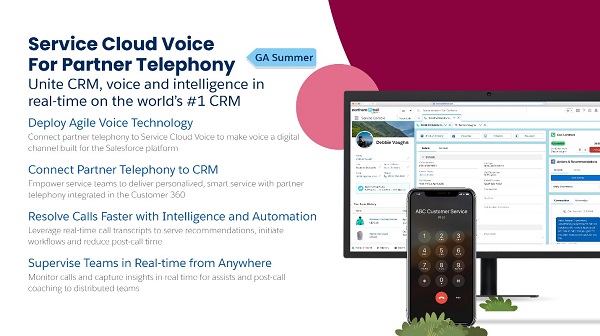 Modernizing the contact center
With many contact center leaders planning to maintain remote or hybrid work, old ways of working — like handling one support channel at a time or looking over a desk to ask a coworker or supervisor for help — are now obsolete. COVID exposed an opportunity to deliver great service from anywhere.
Service Cloud Voice brings together phone, digital channels and CRM data in one central view for service agents, and offers the agent real-time call transcription and AI-powered guidance on recommended next steps. For the first time, customers can connect their existing phone systems into Service Cloud Voice with Service Cloud Voice for Partner Telephony, creating a unified agent and digital channel experience to deliver faster, smarter and more personalized service.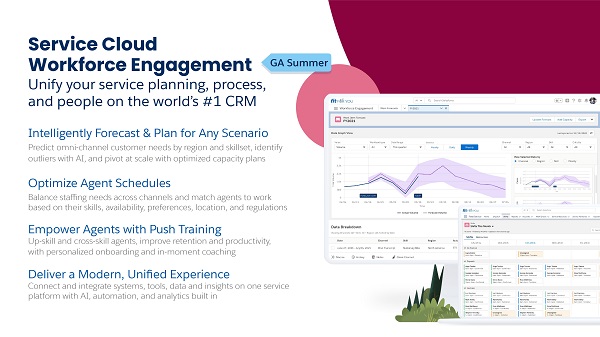 Businesses have had to rethink their operating model and create a more flexible workforce. For example, with retailers seeing less in-store foot traffic, service associates working on the store floor need to have the ability and the training to also support digital requests in the contact center. But in this new environment, it's critical more than ever to have the right customer service agent —with the right skills —talking to the right customers at the right time.
Service Cloud Workforce Engagement is a new workforce planning product that uses artificial intelligence to help service leaders predict how many requests will come into the contact center, and on which channels — including phone, email, web chat, text and social. Service leaders can intelligently plan staffing needs, matching agents to work based on their skills, availability and shift preference. Agents have a single workspace that integrates data, as well as real-time coaching and on-demand training from anywhere with myTrailhead, an online learning platform integrated directly into Service Cloud.
Automating digital service

Eighty-one percent of service decision makers report that they are accelerating digital initiatives, and in the past year Einstein Bot conversations surged 706%, while service channels like chat, messaging apps and video support saw double-digit adoption gains.2
Einstein Bots are intelligent chatbots that simulate human conversations and can quickly resolve common issues like processing a return or checking a flight status. In doing so, they empower agents to devote more time and resources to complex problem-solving and customer interactions. In just a few clicks with Salesforce's low-code capabilities, customers can deploy a new chatbot by leveraging Pre-Built Einstein Bots to assist with service requests.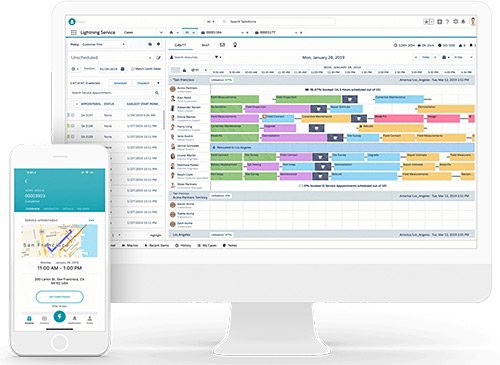 Scaling field service

Field service is undergoing a massive transformation as in person safety and new precautions and ways of interacting become essential for how businesses reopen and effectively stay open. Office buildings, sports stadiums, and malls will need to ramp up to address throngs of people excited to be back together in the community again. Sectors including food service, manufacturing, sanitation, and utilities in particular are increasing their use of Salesforce Field Service to prepare for the surge in infrastructure and servicing demands– everything from elevator maintenance, lights and air quality systems as people return to work, to concert and sports venues, airports, and museums. These indoor spaces have largely sat vacant for the last 12 months, and require checks and maintenance before they are ready for prime time.
As companies continue to limit in-person interactions and prioritize employee health and safety, delivering trusted and effective visual support will remain important. Mobile technicians can reduce time on site by using Visual Remote Assistant, which allows technicians and agents to see what the customer sees through video support, so they can resolve complex issues from anywhere.
The solution works by connecting the customer or technician's phone camera to the Salesforce desktop. This enables the technician to see what the customer sees and advise them accordingly. The application includes augmented reality capabilities. It enables the engineer to place a pointer on the device screen, directing the customer to the correct switch or location to check something. The application also uses AI to recognised characters, including serial numbers, to increase efficiency.
Pricing and Availability

Service Cloud Workforce Engagement and Service Cloud Voice for Partner Telephony are expected to be generally available in June 2021. Pricing information will be made available at general availability.
Visual Remote Assistant is generally available today.
Pre-Built Einstein Bots are currently in beta and are expected to be generally available in October 2021.