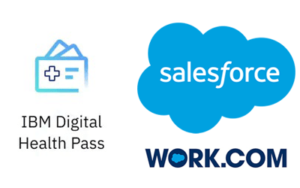 IBM Digital Health Pass will integrate with the Salesforce Work.com platform to help businesses, schools and governments as they strive to safely reopen public places. They will also provide individuals with a verifiable and privacy-preserving way to manage and share their vaccination and health status in the wake of the COVID-19 pandemic.
"At the start of the pandemic, many organizations deployed simple COVID-19 screenings, such as self-reported health surveys, to support re-entry to workplaces and other institutions," said Paul Roma, General Manager, IBM Watson Health. "Now, as testing becomes more widespread and vaccine distribution gets underway, we are expanding the availability of IBM Digital Health Pass with Salesforce to help organizations verify an individual's vaccine status and any other relevant health credentials."
"With Covid-19 vaccines becoming available, companies and communities around the world are focused on how to safely reopen and get back to public life," said Bill Patterson, EVP and GM, CRM Applications at Salesforce. "Our partnership with IBM will give organizations a single platform designed to provide safe and continuous operations, deepen trust with customers and employees and do everything possible to support their health and wellbeing."
Provide a secured share of health records
Individuals will benefit from this alliance to store and share vaccination status, temperature checks, and test results using a mobile wallet. They can maintain the secrecy of their data while securely sharing the health records.
According to a communication from both companies, the new alliance allows the firms to check the health status and vaccination of employees when they return to the office after a work from home arrangement.
IBM introduces Digital Health Pass
IBM introduced Digital Health Pass in October 2020 to enable individuals to manage, share, and store their health status with the help of mobile devices.
The app uses the latest technology blockchain to maintain privacy and facilitate easy sharing of data. It is highly useful for individuals at sports stadiums, airports, and amusement parks.
The Work site of Salesforce is a hit this year and helps firms to quickly manage coronavirus safety. It also worked as a way for the distribution of coronavirus vaccines. The new alliance between IBM and Salesforce facilitates tracking of test and vaccination status and share health records and relevant data on a need basis.
To find out more about about Up CRM's solutions : Salesforce