Salesforce & Cisco are joining forces to bring disruptive innovation to customer service thanks to Artificial Intelligence!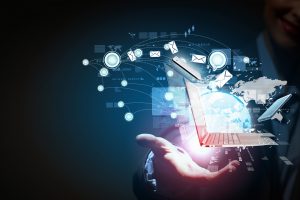 Customer service is typically thought of as being reactive — the customer picks up the phone, or fills out a form on the website, or sends a tweet, and the support agent reacts to that inquiry. But thriving in the customer service landscape of tomorrow relies on being proactive with customer service. The ethos of what creates positive customer experiences is changing — it's no longer just about solving a problem. The best customer service is the service that never happens, it's simply how a company and a customer communicate. However, delivering proactive customer service relies on a wealth of intelligence and actionable data.
Recently Salesforce and Cisco announced a strategic alliance to enable business users to be more productive, intelligent, and predictive with how they interact with their customers with the power of artificial intelligence.
With Cisco and Service Cloud intelligence working together, contact centers can drive new levels of intelligent service that have never been seen before, leaving disparate systems far in the dust. With a single Cisco and Salesforce-powered agent desktop, the agent is empowered to handle every customer interaction with personalization and data-driven insights — fast. But how does it work?
Service Cloud intelligence helps service departments before the agents walk in the door by enabling smarter staffing decisions. Based on insights powered by AI, Service Cloud feeds workforce optimization engines to forecast how many agents are needed on staff at any given day based on past behavior.
Once the agent is at their desk, that's when Cisco and Service Cloud really get to work. The second a service request is submitted, whether the customer starts a conversation in a messaging app or sends a tweet, the clock is ticking and customers expect the right answer quickly. With this new partnership, when a service request comes in through Cisco's Contact Center platform, Service Cloud intelligence automatically classifies the case based on user history and trends. The Cisco platform then routes the call to the agent best equipped to tackle that case in the Service Cloud console, along with recommended responses and rich details on the customer from all departments within the company — not just the service department. The more the agent uses the system, the smarter and more predictive it becomes, and the customer reaps the benefits.
Consider the following:
Context Services, a Cisco cloud-based solution, utilizes all the digital trails that customers lead to enable the best service experience — think of these like breadcrumbs that the customer is leaving along their journey. If I'm trying to fill a prescription, I might poke around a few different spots on the pharmacy website, but ultimately not find the answer that I'm looking for. All of those clicks are stored in Context Services. Next, I might pick up the phone to get my question answered. Traditionally, on the phone I would be played a menu with numerous different options to identify what I'm calling about. Essentially, I'm starting from scratch and the web and phone experience are completely disparate.
Imagine utilizing those digital breadcrumbs in Context Services to make decisions on how to treat the customer in real-time. With Salesforce intelligence and Cisco data, you can capture those insights from their clicks on the website, so that when the customer picks up the phone, you can immediately prompt them with "Are you calling about a prescription refill?" The best customer experiences are as smooth as possible, and that's what Cisco and Salesforce are partnering to deliver together — still to hit the market. Additionally, with the power of artificial intelligence, the system continues to get more predictive and intelligent the more you use it.
But this partnership isn't just about transforming customer service departments today, it's also looking towards the future, where every device is connected within the Internet of Things. Cisco Jasper and the Salesforce IoT Cloud will also integrate to provide visibility, control, and recommended customer actions for connected devices. It's still under development, but together these solutions will empower companies to quickly and cost-effectively leverage billions of IoT data points to provide personalized, engaging experiences for customers.  This is an example of a partnership leveraging the best of both vendors, which analyst Sheila McGee Smith recently wrote about after interviewing Salesforce CTO Parker Harris.
But what would that actually look like? Imagine a refrigerator having issues with it's ice maker and it sending this information back to the manufacture over the internet. Between Cisco and Salesforce, we can take that actionable data and send a firmware update to the refrigerator, problem solved before the owner even new there was a problem. Now what if the fix required a technician to service it. The company usually has a fleet of trucks used to make these service calls. With those technicians and trucks connected to Salesforce Field Service Lightning, the system would send information back to the customer with real-time updates on arrival time — no more staying home from work waiting all day for the technician to arrive. Additionally, the truck could provide its own diagnostics and submit requests for maintenance preventatively — rather than the driver reacting to a problem on the road.