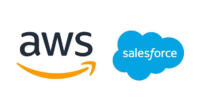 Salesforce and AWS announced plans for a new set of integration capabilities to make it easier to share data and build applications that cross the two platforms.
This involves a couple of new features the companies are working on to help developers on both the platform and application side of the equation. For starters that includes enabling developers to virtualize Amazon data inside Salesforce without having to do all the coding to make that happen manually.
Similarly, developers building applications on Amazon will be able to access Salesforce data and have it appear natively in Amazon. This involves providing connectors between the two systems to make the data flow smoothly without a lot of coding to make that happen.
The companies are also announcing event sharing capabilities, which makes it easier for both Amazon and Salesforce customers to build microservices-based applications that cross both platforms.
AWS & Salesforce also announced plans to make it easier from an identity and access management perspective to access the platforms with a guided setup. Finally, the companies are working on applications to build Amazon Chime communications tooling into Service Cloud and other Salesforce services to build things like virtual call centers using AWS machine learning technology.
It's worth noting that Salesforce also has extensive partnerships with other cloud providers including Microsoft Azure and Google Cloud Platform.


Please find below a more precise list of the features:
UNIFY DEVELOPER EXPERIENCES – COMING SOON
Streamline development from concept to launch.
Get low-code, pro-code, and click-to-launch developer tools that make it easy to build personalized experiences.
Unleash the power of customer data with real-time events.
Natively connect real-time data and events and securely move them between Salesforce and AWS.
Build modern applications faster and easier.
Virtualize data from AWS services, like Amazon RDS or Amazon S3, in Salesforce objects for low-code development.
Simplify authentication and identity.
Sign into AWS from Salesforce Setup or into Salesforce from the Amazon Management Console to simplify service authorization, user identity, security, and governance between Salesforce and AWS.
NEW INTELLIGENT APPLICATIONS – COMING SOON
Unlock new value in less time.
Use out-of-the-box applications from Salesforce and AWS for voice, video, and productivity — all infused with AI and real-time interactions.
Connect easily with voice services.
Run virtual call centers and sales teams with Amazon Connect and AWS AI/ML services pre-integrated into Salesforce Customer 360 Sales and Service.
Run meetings with built-in video apps.
Power virtual sales meetings and virtual support with Amazon Chime and AWS AI/ML services pre-integrated into Customer 360 Sales and Service.
Get tailored, industry applications.
Access industry-specific capabilities by bringing AWS AI/ML capabilities into Salesforce Industry Clouds, starting with Salesforce Virtual Care for Salesforce Health Cloud.
EXPLORE ALL OFFERINGS
See what's currently available from Salesforce and AWS.
Service Cloud Voice with Amazon Connect
Integrate cloud telephony alongside digital conversations within Customer 360 Service.
Private Connect and Amazon AppFlow
Create private bidirectional connections between Salesforce and AWS without exposing data.
Government Cloud Plus
Learn more about the most trusted CRM for government, built on AWS GovCloud (U.S.).
Intelligent Document Automation
Digitize document management processes across industries including Healthcare, Public Sector, and Financial Services.
Tableau on AWS
Unlock self-service analytics in the cloud. Seamlessly perform data collection, transformation, storage, and analysis.
MuleSoft and AWS
Connect your AWS services and apps with data from 200+ systems — cloud, SaaS, legacy, EDI, or on-premises.
LEARN IN-DEMAND SKILLS
Get the skills you need to take your career to new heights.
AWS and Salesforce are committed to addressing the growing technology skills gap and to empower anyone — with any education level or background — to learn skills for the jobs of today and tomorrow.
Stay ahead — the easy way.
Get everything you need to tackle the most in-demand jobs across the Salesforce ecosystem and AWS ecosystem on Trailhead.
Earn resume-worthy credentials.
Get noticed by employers seeking top-notch candidates with AWS skills.
Connect to new networking opportunities.
Find career-building opportunities from mentorship to employment in the Trailblazer Community.