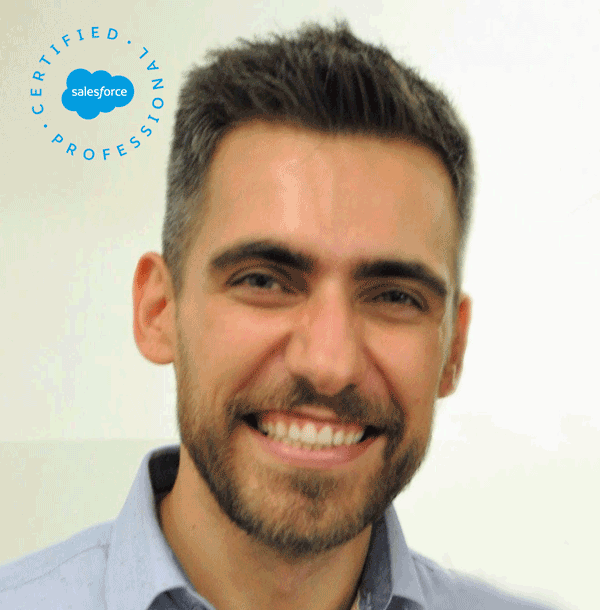 Hello, I'm Raphaël!
I join the UpTeam as Salesforce Senior Architect
I've studied Computer Sciences and IT Project Management later on. I've been working with Salesforce since 2008 and my focus is Salesforce Platform, Sales, Service and Community Cloud. Since then, I have done dozens of projects always as a Functional Consultant (I know a bit of coding but I acknowledge that I'm not good at it) in different industries, like Financial Services, Healthcare, and Communications.
I really like to learn new things and expand my knowledge on the Salesforce ecosystem like upcoming releases and acquisitions, development lifecycle and project delivery. I also like to get certified on the things that I know and I aspire to become a Salesforce Certified Solution Architect when Salesforce releases that certification later this year, and Salesforce Technical Architect in the future.
On the personal side I like to hit the road and know new places, learn and play about home automation, do BBQ and drink beers, especially trappists.

Hi there! My name is Renan
I joined the UpTeam as Salesforce Developer
I've been working with Salesforce since 2016 and was at this same moment which I started my development career. Before that I was kind of the support guy but not in an official job, only on my free time: I was on a personal project with Raspberry Pi which I found out a little bit what development was about, basically I wanted to create a custom visual for an existing OS on it and I didn't know how to do so. So I started to mess around and study how to do it.
One day I was frustrated that I couldn't do one thing (CSS) and called a friend of mine, when he arrived he said: 'Did you do all of this changes by yourself?'. He said that maybe I should start thinking about doing it as a career, so he kindly introduced me to his boss who gave me the opportunity to start working on it, he only asked me to start a college degree TI related. I was already 27 at the time but I accepted the challenge and found the thing I like to do most, working with solutions, make the life easier and of course the development, the logic behind it. Since, I finished college, was able to complete 2 certifications and I was able to move abroad which was an old dream that I thought I'd never achieve.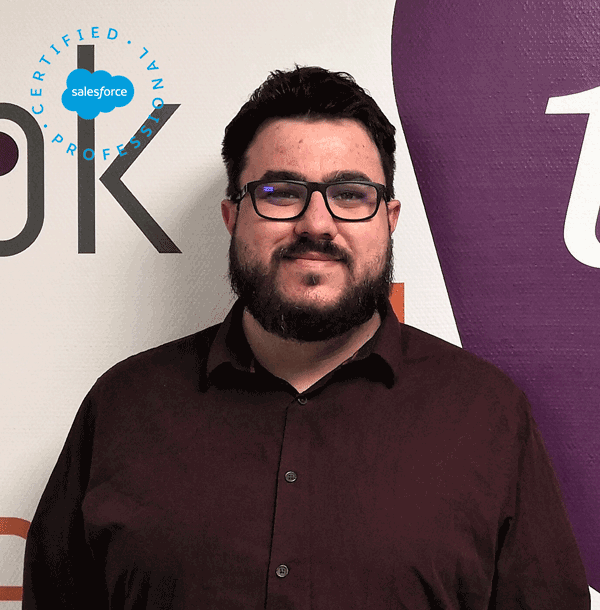 So, I may not have 10 years of experience on development yet, but I'm very curious and life gave me awesome opportunities to get to know a bunch of different projects, and of course, I keep learning something every day.
I wanted to share my history so everyone get to know me a little bit more. To finish, the three things that I love most are: video games (back in Brazil I was a console collector, had almost 15 already), drums (I've been playing since I was 11, of course now with the changes of country and everything, I'm still without a drum kit to bother my neighbours (?), but until the end of this year I'll get one, of course a digital one aha!) and technology (IoT, AI, etc)."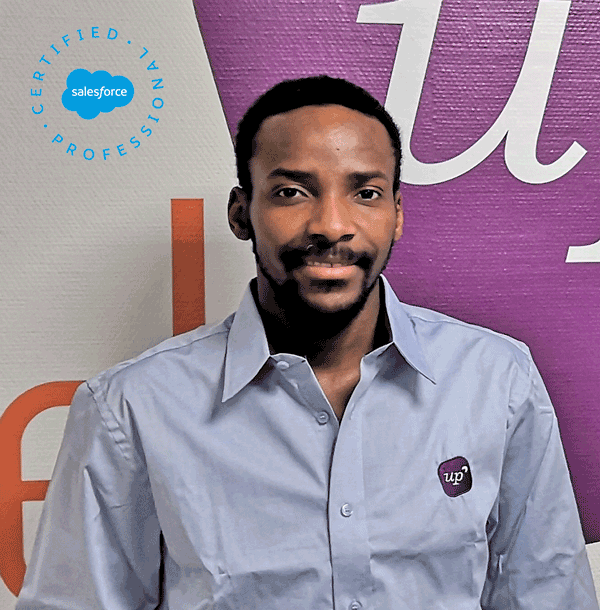 Je suis Tchatchoua Stedy Rodrigue, bonjour à vous!
J'ai rejoint l'équipe UpCRM en tant que Consultant Salesforce
De nationalité camerounaise je suis arrivé en Italie durant l'été 2008 avec un Baccalauréat de l'enseignement secondaire général en poche (BAC D – Mathématiques et Science de la Vie et de la Terre – obtenu au Lycée Général Leclerc de Yaoundé) et surtout avec pour objectif d'obtenir un diplôme d'ingénieur. En 2013, j'ai obtenu mon diplôme d'Ingénieur Biomédical à l'université de Pavia. Puis en 2014 j'ai démarré un emploi de Junior web Developer avec le CBIM (Consorzio di BioIngegneria e Informatica Medica) avec comme satisfaction personnel le projet IFA (Italian Food Art) qui a été présenté à Milano Expo 2015.
Dix mois plus tard, j'ai découvert le monde Salesforce, dans lequel je suis depuis 5 ans. J'ai eu l'opportunité de travailler/collaborer sur des projets Salesforcepour différentes sociétés en Italie et j'ai également eu une brève expérience avec le CRM SAP Cloud for Customer (C4C).
Avec Salesforce je me suis frotté à de nombreux secteurs d'activité et j'ai travaillé sur de nombreux projets sur différents modules Salesforce (Sales Cloud, Service Cloud, Community cloud, CPQ). Au cours de mon expérience j'ai également obtenu plusieurs certifications Salesforce et je ne compte pas m'arrêter là !
En Juin 2019, j'ai obtenu une ITA (Invitation To Apply) de la part du gouvernement Canadien qui allait me permettre de partir avec ma famille (une femme et deux enfants) pour l'Ontario. Mais entre-temps j'ai postulé pour le Luxembourg, car malgré le rêve américain ma priorité restait l'Europe. Après mûre réflexion, mon épouse et moi avons penché pour le Luxembourg pour la qualité de vie que ce pays pouvait offrir à nous et surtout à nos enfants.
Je crois que la plus belle opportunité m'a été offerte par UpCRM (Salesforce Gold Partner). Le courant est tout de suite passé avec UpCRM et je n'ai pas hésité une seconde à renoncer à la Résidence Permanente Canadienne quand la possibilité m'a été offerte de rejoindre UpCRM et le Luxembourg et pour cela je dis un grand merci à Chloé Sementery, à Patrick Hermès, Patrick Ittah et Yves Leblond qui m'ont fait confiance.
Aujourd'hui cela fait six mois que ma famille et moi sommes au Luxembourg. La vie ici offre encore plus que ce que nous avions imaginé, ma famille s'y plaît énormément. Le travail chez UpCRM est excitant et en quelques mois j'ai pu suivre de nombreux projets sur les modules Sales, Services et surtout CPQ dans les secteurs suivants : Banque, Biomédical, Information, Sécurité Informatique, en outre je fais partie d'une team très compétente, dynamique, multiculturelle, et très disponible, à qui je dis merci.
Je termine en citant Johann Wolfgang Von Goethe :
« Quoi que vous puissiez faire ou rêver, commencez-le. L'audace a du génie, de la puissance et de la magie »

Bonjour, je m'appelle Mirela !
Je rejoindrai l'équipe UpCRM courant Mai, en tant que Consultant Salesforce
Je suis née et j'ai grandi en région parisienne et je suis d'origine Bosniaque. De nature très scientifique, j'ai eu un diplôme d'ingénieur en matériaux et nanotechnologies et j'ai choisi à la sortie de mes études de m'orienter vers l'IT car j'avais soif de nouveaux challenges.
J'ai travaillé presque trois ans chez Capgemini, dans leur section CRM et j'ai été deux ans et demi sur un projet dans le domaine de l'énergie en tant que consultante technique. C'est un projet particulier car nous étions plus de 150 personnes à travailler sur le nouveau CRM Salesforce de notre client.
Je suis certifiée Admin, App Builder et bientôt Dev1, je l'espère ! Les produits Salesforce sur lesquels j'ai eu l'occasion de travailler sont le module Sales en majorité, un peu de Community et de Commerce Cloud.
Une phrase que j'aime beaucoup :
« La vie n'est que le reflet des couleurs qu'on lui donne. Il appartient à l'homme de savoir cultiver sa vie. » – Abbé Pierre