UpCRM, as a Salesforce Gold Consulting Partner is committed to provide CRM services with highly certified consultants to its clients. These last months Frédéric Bellenger, prepared a new Salesforce certification. He is on his way to obtain the Salesforce Certification Technical Architects. First he has to validate intermediate certifications and this month he got the Development Lifecycle and Deployment Designer Salesforce Certification. It is a long journey to become an Architect, as it is the greatest and the hardest Certification to obtain. Congratulations Frédéric Bellenger! One more step to progress towards achieving your objective. It is not an easy game to pass the certification and it is a great deal.

What are Salesforce Certifications?
Salesforce Certifications recognized qualifications that prove to employers or clients that the certified person excels in a certain field within Salesforce. They are the best way to demonstrate the impact the employee makes every day, while giving himself/herself a competitive edge that leads to new opportunities. No matter the role, Salesforce University has a path to certification! They are many certifications as Administrators, App Builders, Architects, Consultants, Developers, Marketers, Pardot Experts and Specialists. But the most difficult is the one Frédéric Bellenger chose, Architect. He is on his way to validate the Salesforce Architect Certifications. He already passed the Integration Architecture Designer Certification and the Development Lifecycle and Deployment Designer Certification to validate the specializions level and get ready to start the Domain Architect.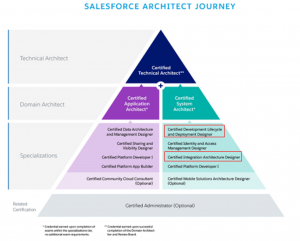 What does it mean to have the Development Lifecycle and Deployment Designer Certification?
The Salesforce Certified Development Lifecycle and Deployment Designer credential is designed for those who assess their architecture environment and requirements and then implement management solutions on the Force.com platform that meet those requirements. Candidates should have experience communicating solutions and design trade-offs to businesses and IT stakeholders.
Here are some examples of the concepts you should understand to pass the exam:
Experience with project and development lifecycle methodologies
Experience providing requirements traceability through the project's lifecycle
Awareness of Salesforce and third-party application development lifecycle tools
Understanding test plan design and evaluating effectiveness
To find out more about about Up CRM's solutions : Salesforce