Announced at the end of October 2020, Salesforce Industries is an expansion and organizational consolidation of industry-specific clouds built on the Salesforce Customer 360 Platform.
Combined with innovations from Salesforce and Vlocity, a partner acquired in February, the graphic below details the existing and new components of the Salesforce Industries product portfolio.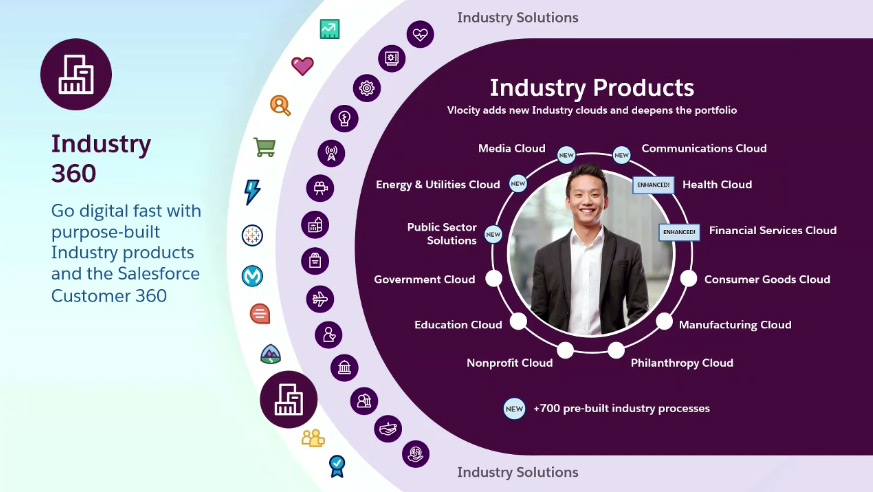 The new clouds join Salesforce's already established industry clouds in healthcare, financial services manufacturing, consumer goods, government, nonprofit, education and philanthropy. In total, Salesforce now brings 12 industry clouds to market in order to help companies accelerate time to value, go digital faster and transform their industry.
Communications Cloud — Modernizing the subscriber experience for both businesses and consumers
With their retail stores shuttered, communication service providers (CSPs) have pivoted to digital and mobile channels to serve their customers. Unable to meet their business customers face to face, sales reps have relied on cloud-based applications to automate quoting, contracts, ordering and fulfillment of new services and keep the wheels of commerce turning.
Communications Cloud gives CSPs a deeper understanding of their customers so they can deliver personalized offers and experiences anywhere at any time, quickly launch converged service offers, capture accurate quotes and orders, author, negotiate and execute contracts, and orchestrate timely order fulfillment. It also helps CSPs get their transformation projects live quickly by providing hundreds of pre-built, best-practice industry processes, product models and integrations.
Communications Cloud gives agents a 360-degree view of customers in the B2C Console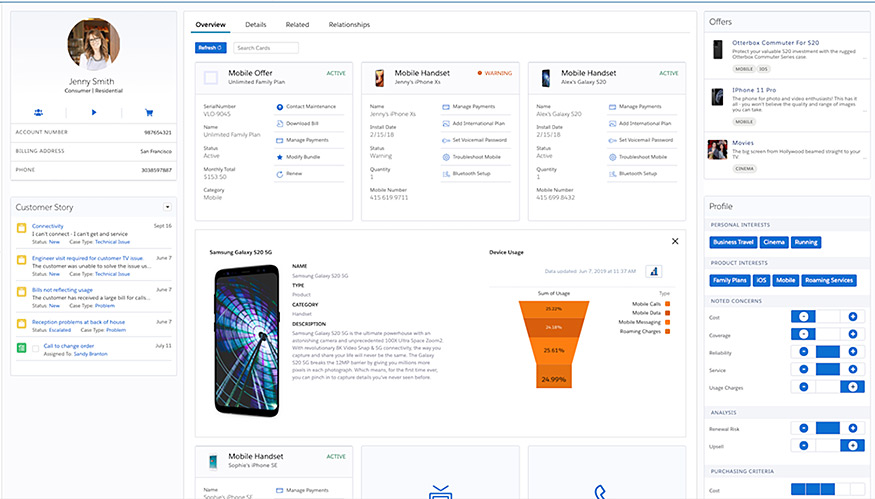 Salesforce Communications Cloud
Media Cloud — Launch, monetize and grow media services with apps for ad sales, ecommerce and streaming
Seismic changes in the media and entertainment landscape have been accelerated by the global pandemic, only increasing the importance of delivering streaming-like experiences that are engaging and personalized. With many customers in quarantine, their habits, expectations and ways they consume media have changed.
Media Cloud helps service providers quickly develop and launch subscription bundles and offers to create more personalized customer experiences. Using AI, Media Cloud helps providers better understand preferences and previous interactions for smarter customer engagement. Media-specific data models and pre-built downloadable processes guide subscribers to relevant products while delivering effective and quality customer care support. It also enables the monetization of ads, content and subscriptions with operational efficiencies like automated pricing, discounts, bundling, campaigns, and streamlined management of contracts.
Media Cloud Call center console provides a 360-degree view of the customer with existing packages, a comprehensive interaction history, and an AI-driven profile and interests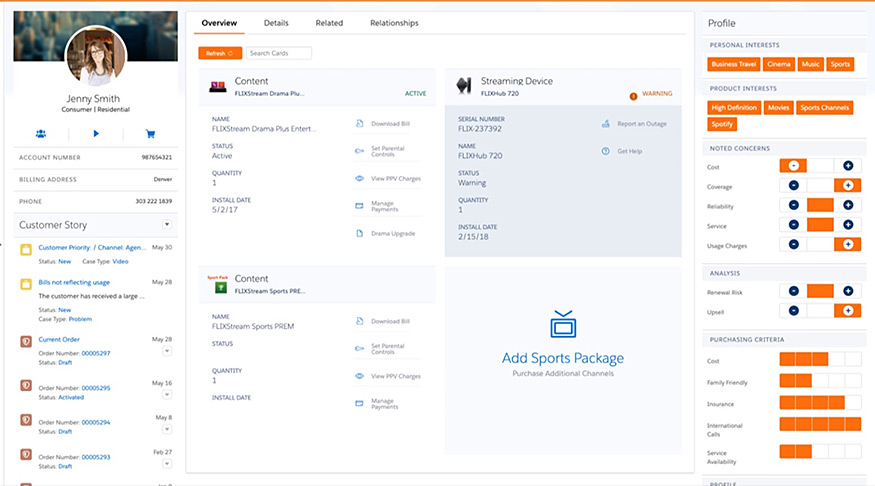 Energy and Utilities Cloud — Differentiated customer experiences and services for residential and business customers
As utilities companies navigate the pandemic and natural disasters, it's imperative that they maintain strong customer relationships, ensure service reliability and keep their workforce safe.
Energy and Utilities Cloud connects teams and systems on a platform integrated with legacy customer information and billing systems to give all employees — from sales to service to field operations — a single source of truth. This helps enable an organization to seamlessly deliver personalized customer service experiences that include mobile and self-service resolutions. Energy & Utilities Cloud also helps drive commercial and industrial sales by streamlining multi-site, multi-commodity, and multi-price deals to decrease time from quote to contract.
For example, a customer contacts their utilities company because they have experienced a service outage due to an equipment malfunction. Amidst the pandemic, the company still needs to resolve the issue and restore access quickly. With Energy & Utilities Cloud, agents working from home or in the field can dispatch a field service operator who has access to relevant insights and previous interactions in one place and can help to safely and efficiently resolve the issue.
Energy and Utilities Cloud gives teams a 360-degree view of customers to deliver personalized omnichannel customer service and simplify business processes from sales to service to field operations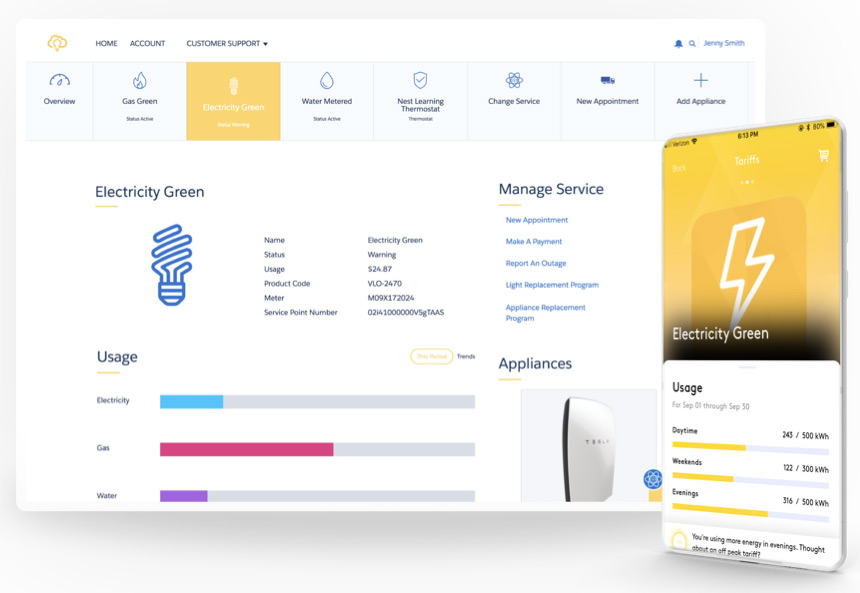 Salesforce Energy & Utilities Cloud
Public Sector Solutions — Quickly create and deploy modern apps for license and permit management
The need for licensing and permits is widespread, spanning jobs across commercial, public health and safety, agricultural and recreational sectors — up to 25% of U.S. workers rely on professional credentials for their occupation. As citizen demand for digital services grows and governments respond to the impacts of the pandemic that have introduced new regulations for businesses and a more remote workforce, it is essential for governments to be able to move licensing, permitting and inspections services online to support local economies and to continue to generate state and local revenue.
Salesforce announces new applications for license and permit management, inspection management and emergency program management. With an online application hub, citizens and businesses are able to find, submit and check on applications, while government employees have a single view into the process, providing them with flexible and guided workflows to process applications efficiently.
For example, a hair salon or restaurant can submit an online application for the permits required to open, while their employees can submit the occupational licensing or professional certifications needed for their professions. During social distancing protocols, a local jurisdiction may offer these businesses temporary permits to expand services and dining outdoors onto nearby sidewalks and alleys. The online application hub supports expedited permitting and inspections to check on compliance and then issue a new permit that allows a local business to expand their business outside.
New Public Sector Solutions move the licensing, permitting and inspection process for citizens, businesses, and government employees to an online hub
In this very unusual times, businesses need to adapt quickly to this new digital normal and connect with their customers in entirely new ways. And while they need to be agile, they also require fast payback for their technology investments. For example, Salesforce announced Work.com for Vaccines to help enable governments and healthcare organizations to manage vaccine operations, from patient registration and scheduling to inventory management and public health outreach.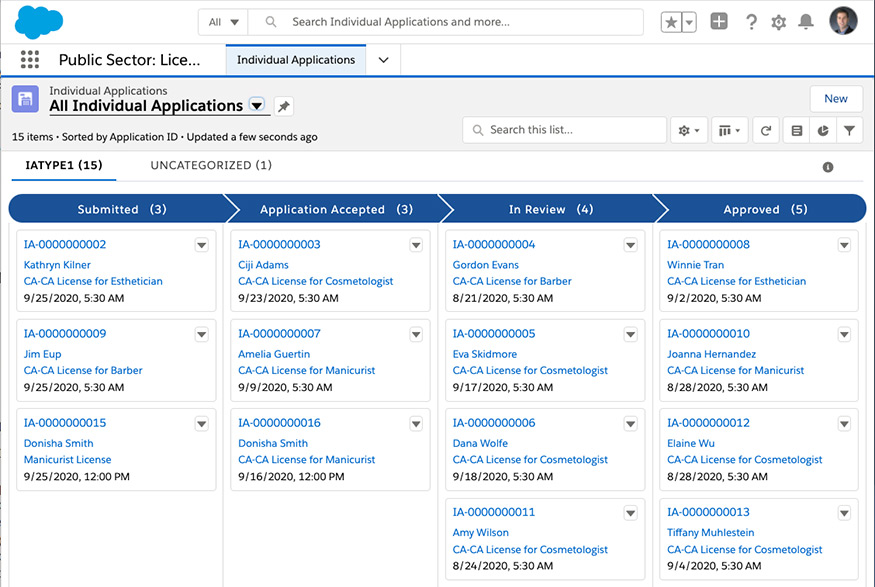 Salesforce Public Sector Cloud
Salesforce Industries provides a suite of 12 industry clouds tailored to the best practices for these industries and will help companies navigate these times and emerge even stronger.
To find out more about about Up CRM's solutions : Salesforce