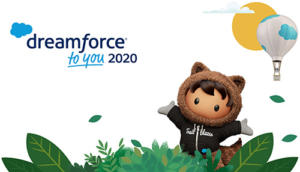 This year, "Dreamforce", the Salesforce annual Conference took place online only. Salesforce Chair & CEO, Marc Benioff, delivered the Dreamforce to You 2020 Keynote from Salesforce Park. Find below the major announcements :
– Digital experience is no longer a "nice-to-have." It's an imperative. Every business, Taylor continued, across every industry, needs to deliver seamless, connected digital experiences.
– Hyperforce : The world's #1 CRM, available on major public clouds. Bret Taylor, Salesforce President & COO, announced a significant upgrade to that Customer 360 Platform. With Hyperforce, the World's #1 CRM platform has been reimagined — built to securely and reliably deliver Salesforce Customer 360 on major public clouds.
– A playbook to respond to the new digital imperative. To navigate uncertain times, Benioff delivered a playbook for customers to drive success in the digital imperative. The playbook has three chapters, focused on leveraging intelligence, unifying data, and creating great experiences.
– Leveraging intelligence — The State of Rhode Island's COVID-19 story. When the pandemic hit, the government of Rhode Island had to look at new ways of moving into action fast. Marc Benioff sat down with Rhode Island Governor Gina Raimondo to discuss how her team leveraged intelligence and automation to combat COVID-19 cases and protect the health of Rhode Island.
– Einstein Automate — Making every experience intelligent. Joining the keynote virtually, Sarah Franklin, EVP & GM, Platform, Trailhead, & AppExchange, Salesforce, introduced the new Einstein Automate. She explained how these intelligent innovations are helping governments go digital, fast — and helping local businesses get back to growth by making every customer experience intelligent.
– Salesforce Service Cloud Workforce Engagement — available summer 2021. Service Cloud Workforce Engagement will help service leaders in the contact centers predict demand for customer service, staff agents appropriately, and remotely coach agents in real-time to deliver trusted service experiences.
Experience more than one hour of the Dreamforce 2020 Keynote below :
To find out more about about Up CRM's solutions : Salesforce