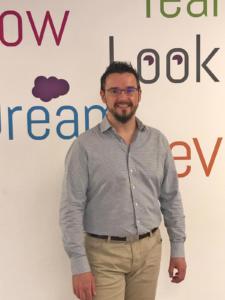 Hello, i'm Jérémie!
Falling into IT when I was 10 years old, I started later on my professional career in hardware as a business manager of a computer store. Passionate about creation, I then specialized in software development. Having worked for groups such as Sony or CIC in France I chose to come and work in Luxembourg in 2007 for Arendt, the biggest law firm in Luxembourg. I first work as a developer, then I took the responsibility of the development team of up to 9 people. Always wanting to move forward and take up new challenges, I oriented myself towards project management. Firstly, only on development projects, in particular the CAROL solution, then also on infrastructure and transversal IT/business projects such as the ERP Elite 3E.
After almost 9 years at Arendt, I decided to move in the world of IT services companies by integrating C-Services as IT Manager and Project Manager for clients such as Arcelor Mittal, CFL or the European Parliament. In 2018, AUSY Luxembourg PSF SA welcomed me as Service Delivery Manager, first to set up 2 support teams of 15 people for one of the biggest players in the Insurance sector in Luxemburg and finally to take over the Business Lines Project and Development.
Continually keeping my Level'Up mindset and willing to learn, I discovered Salesforce by integrating UpCRM. The dynamism of the team as well as the powerful integrations of the Salesforce solution convinced me to join the adventure. We are going to strengthen the organization, set up new delivery framework process and grow our technology partners ecosystem. We aim as well together with our team to rethink our range of services, especially in Managed Services to provide an end to end perfect user experience to our customers.
Gamer since I was a teenager, a virus transmitted to my children, we share it among other things during our annual visit to Paris Games Week. To disconnect myself from the screens, I practice trekking ideally in my native mountains in Alsace, as well as DIY.
I am convinced that by sharing and relying on everyone's skills in a hard-working but humane and fun spirit it is possible to do great things.
My favourite quote: "Alone we go faster, together we go further"